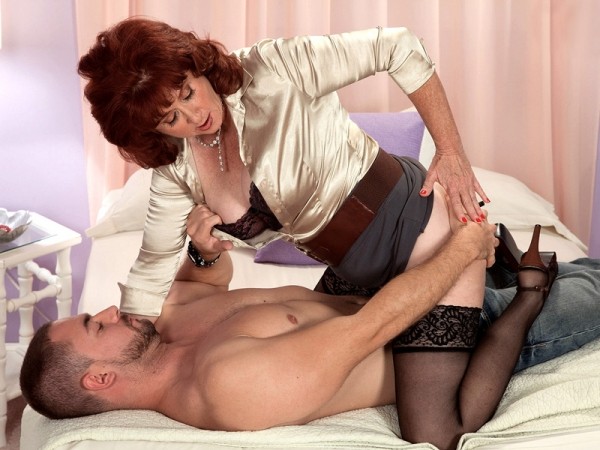 Shirley Lily, a 52-year-old divorcee from Cleveland, Ohio, has red hair.

"A lot of men like that about me," she said.

Shirley, who's a mother and a grandmother, also has big tits.

"Double-Ds," she said. "A lot of men like that about me, too."

But what's most important to all of us is that Shirley loves giving blow jobs and is expert at giving them.

"All men like that about me," she said, laughing.

Shirley has a dirty mouth. In her fuck scene at 50PlusMILFs.com, she keeps referring to her pussy as her "cunt" as in, "I'm so glad you're here to take care of this cunt." Some women are afraid of the word cunt. They find it distasteful.

"Calling a woman a cunt is definitely not acceptable," she said. "Referring to my pussy as my cunt is definitely acceptable. In fact, I prefer it."

Shirley has been a swinger off and on since she was 19. She's been married twice, divorced twice. She's a nudist. She's into gangbangs. She loves cocks and cum.

"I imagine several men masturbating around me," she said. "They each take turns filling my hole with their cum and some stick their hard cock in my mouth before fucking my naughty, horny pussy."

You could call Shirley classy. But you'd be dead wrong.