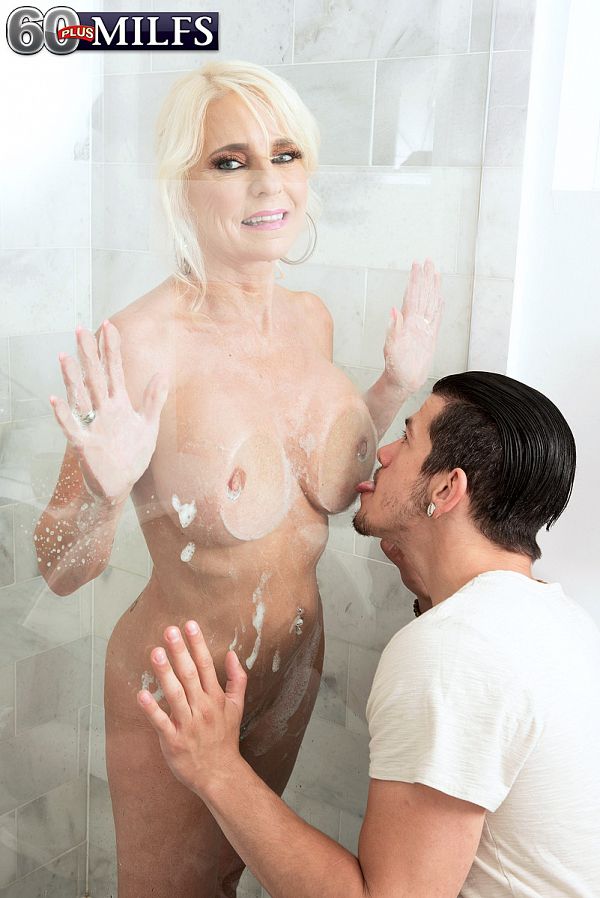 Cammille Austin is taking a shower when Bambino walks in on her.

"Oh, fuck, my dad's new wife?" he mutters to himself

In the flesh. All wet and soapy. Big tits. Nice ass. Water running over her sexy 60-year-old body.

"Is that you, Bambino?" she asks.

"Yeah. No," he mumbles, not sure what to do or say.

"Come in here," she says. "I can't hear you."

He goes in. She doesn't cover up. Not at all. He checks out her tits and ass and obviously likes what he says. Lucky Dad, eh, Bambino?

Bambino tells her he didn't know she was home.

"You're my dad's new wife," he says.

"I've seen you spying on me before," Cammille says. "I've been wondering: Are you as big as your dad?"

"Huh?"

"Well, there's only one way to find out," Cammille says, and that way is to take out his cock and see for herself. And when she finds out that her new step-son is even bigger than her new hubby, she sucks and fucks his cock, and then she does what Cammille loves best: She takes his cock up her ass.

In the end, Bambino cums on Cammille's asshole. Is that any way to treat your new step-mom?

Damn right it is!
See More of Cammille Austin at 60PLUSMILFS.COM!