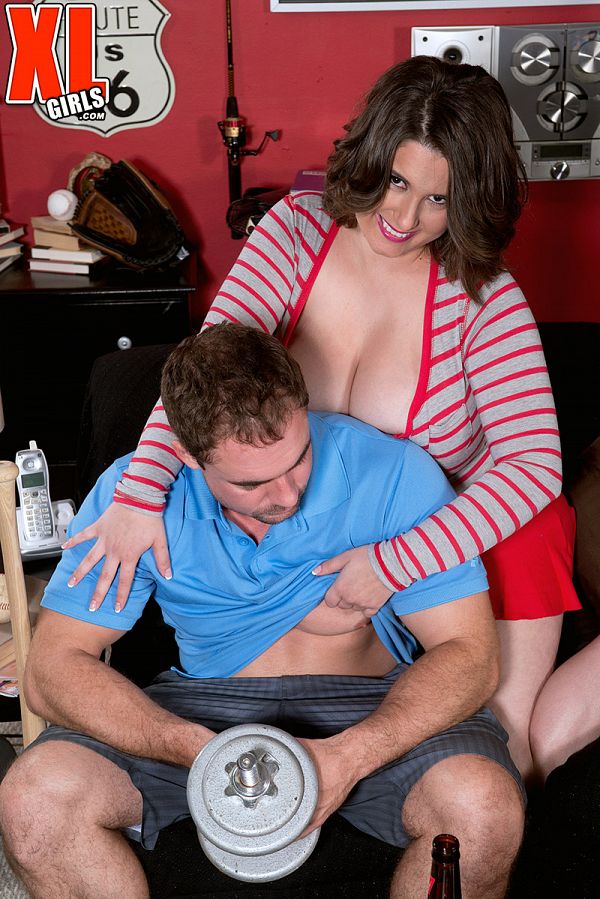 Alana Lace: one of the horniest girls ever at The SCORE Group. Alana seems to be in perpetual heat, whether she is pulling on her nipples and spanking one out in girl-alone masturbation or playing stud finder and having a dirty ride with a hard man. We love this girl with the sex drive of three women combined.

Mirko is curling weights when Alana interrupts his lifting. The brunette seductress has a different and better weight for him to lift. He will lift her tits to his mouth and suck. Alana's nipples are very sensitive, so she relishes playing with her tits every chance she gets. She shoves her bazooms in his face to attract his attention. No need to be coy or subtle about it. Alana is aggressive and assertive when she needs attention, then she becomes submissive when the guy takes charge. She loves rough sex and being manhandled and says she fantasizes about that.

Mirko feeds Alana cock. She likes to make slurping sounds and to spit when she gives a man a blow job. She's great at that and should be teaching a course in cock sucking at an adult education class. She likes to purr, moan and softly talk dirty during sex.

Getting her tits fucked before her pussy is crammed fills her with excitement. Her moves are sensuous and erotic. Alana makes guys crazy, especially when she goes out in something skimpy--and that's often since she lives in sunny Florida. Doing porn brings out her true nature. It was the right choice for her. Alana shouldn't be working some nine-to-five boring job in an office. That would be a sin and a waste!