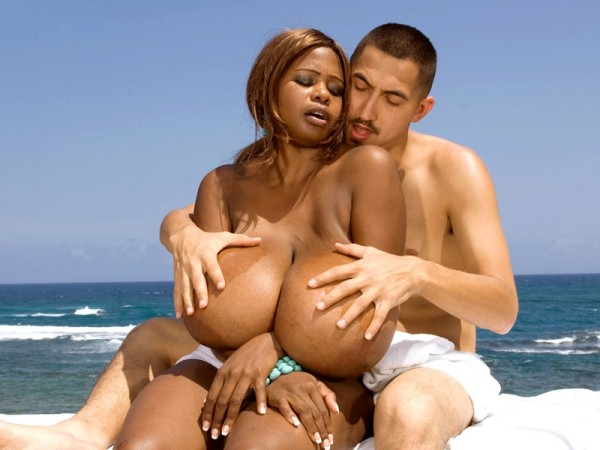 Looking very much at home in her native Dominican Republic, KKK-cup Miosotis-the bustiest slim 'n' stacked natural ever-puts her magic fingers to work on lucky stud Juan. But she doesn't just use her hands. She uses her giant, soft hooters to ease the tension that's flowing through his body. Of course, by doing that, she also makes his cock stiff.

As Elliot wrote on SCORELAND, "She massages his entire body with her massive, slick and shiny mams, lubed for easy sliding. How's that for service? The beneficiary of her breast largess can't keep his fingers, tongue and cock away from her daunting danglers. Squeezing, rubbing, licking, sucking and burying his face between them, the Miosotis effect soon takes place. Miosotis plays tit for tat and tat for tit and taps him back with a wet BJ and a wet pussy. The treasure chest of the Caribbean is a prize named Miosotis."

SCORELAND member PuraVida wrote, "Miosotis is something like a genie would create for you with a wish, she is so off the charts sexy. If that was my woman, my cock would be in pain from all the times I would shoot on her impossible-sized rack."

Miosotis is truly a wonder of nature. She measures 50-28-36. Her tits are the only part of her body that's big. She's one of the rare naturals who's a member of "The 20 Club" for girls whose chest measures at least 20 inches more than their waist.